Discover Doux Sommeil by KALOO: the range created on the theme of baby's sleep, which is central to the concerns of parents. The products have been designed specifically for bedtime in order to soothe babies from the very beginning and to help establish a bedtime routine as they grow.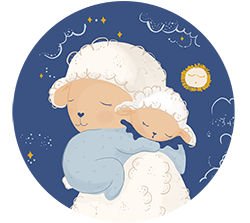 Help baby fall sleep with Kaloo
Whether it is at night or naps during the daytime, sleep is part of baby's day-to-day existence from birth. It is therefore an essential element in the routine of little ones and their parents from day one.
Although we know the importance of sleep for a child's development, it is sometimes difficult for families to find the right tools or rituals to put in place to help baby get to sleep calmly. Depending on the child's rhythm or temperament, techniques do not always work and sometimes leave parents stressed (and tired).
With the Doux Sommeil range, KALOO provides products and orientation aids for families, to make bedtime a moment of calm and shared pleasure.
Comforters, a maxi comforter made of organic cotton, night lights for baby, cuddly toys with sound or music and soft picture books invite you to set up evolving routines that will reassure the child and help them surrender to sleep, from birth.
Who hasn't counted sheep to get to sleep? Synonymous with softness, this gorgeous animal comes in blue and grey-blue tones, soothing night-time colours. Whilst counting sheep may not be easy for babies, they can always count on you at bedtime.
The materials have been designed to envelop baby in softness: organic cotton, cotton muslin, poplin, synthetic fur or micro-velvet. The fabric is comfortable, feels good against the skin and is always safe for little ones.
And to make sure babies can easily find their comforter at night, all the products in the range have a glow-in-the-dark teddy bear label: a good way of reassuring themselves in the dark.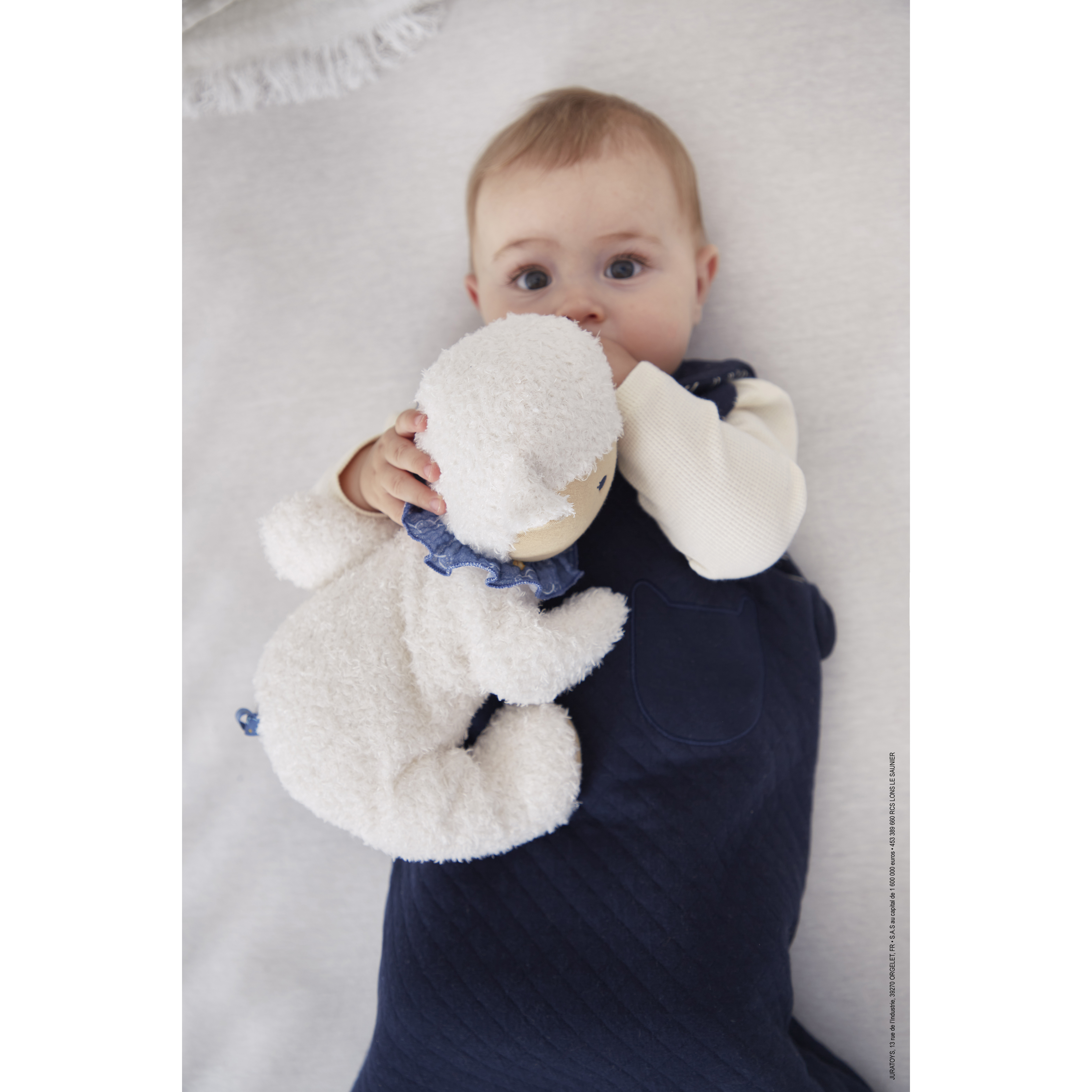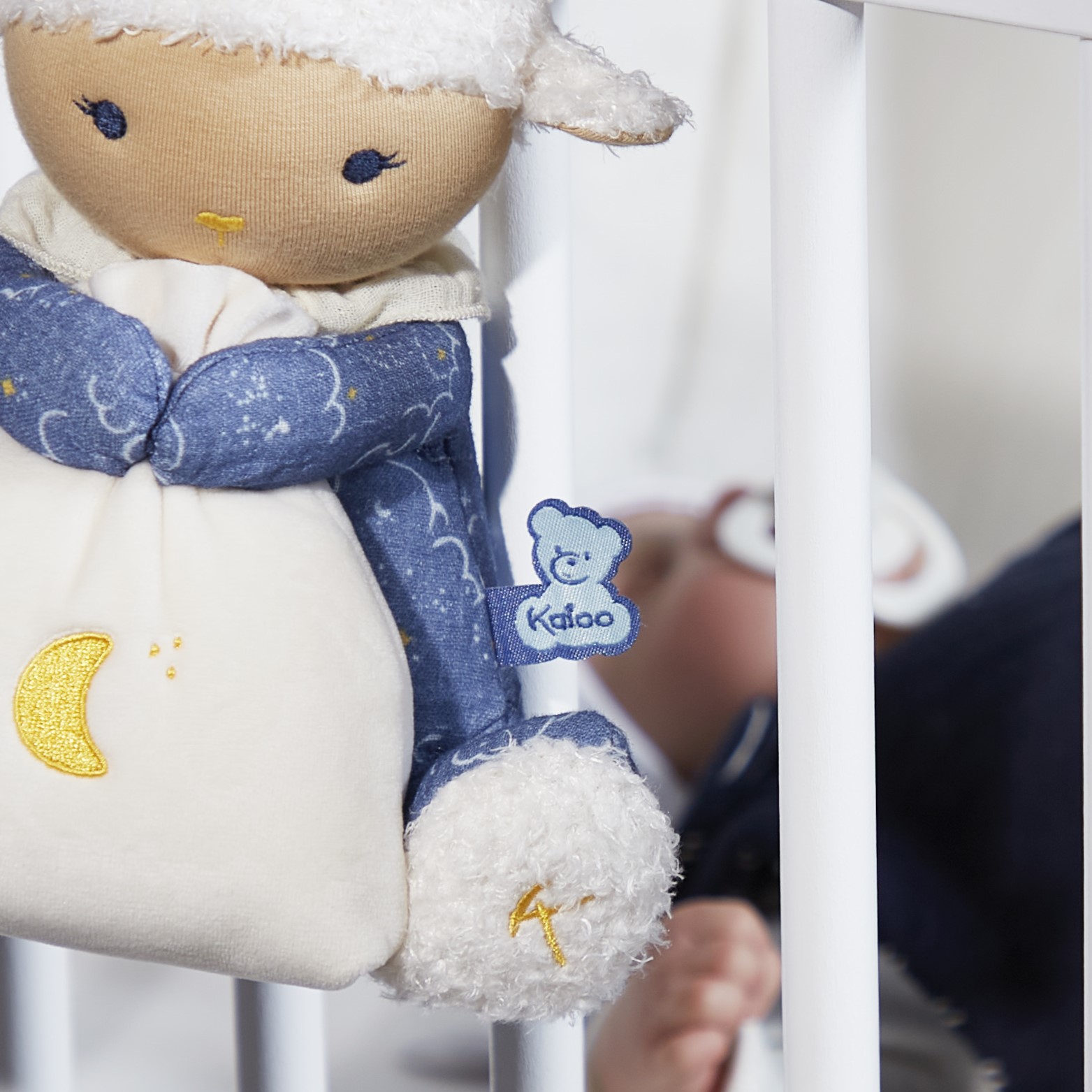 At the heart of first bedtime routines
Creating cues for baby to fall asleep
Repetition and the establishment of routines are important for babies. They focus on the cues, memorise and recognise the gestures, toys or products used, as well as their sensations: in this way they are reassured and soothed, and can more easily let go in order to fall asleep. Repetition may seem boring to us adults, but it is a key element in young children's sleep. To get babies to sleep, you can:
• Rock them,
• Hug them,
• Massage them,
• Swaddle* them or put on their nightclothes,
• Read a short story dedicated to bedtime,
• Play a lullaby also dedicated to that time of day,
• Use a night light or white noise machine**,
• Give baby a comforter and/or a pacifier.

A young child's bedtime routine may also include:
• A longer bedtime story,
• A hot water bottle,
• A comforter or weighted blanket.
Night wakings are nonetheless inevitable from birth until the age of 2 or 3. It is normal for babies to wake up at night, as their sleep cycles are shorter than those of adults. Establishing a climate of trust and creating cues for the child helps limit their worries and gives babies a sense of security when they wake up between sleep cycles.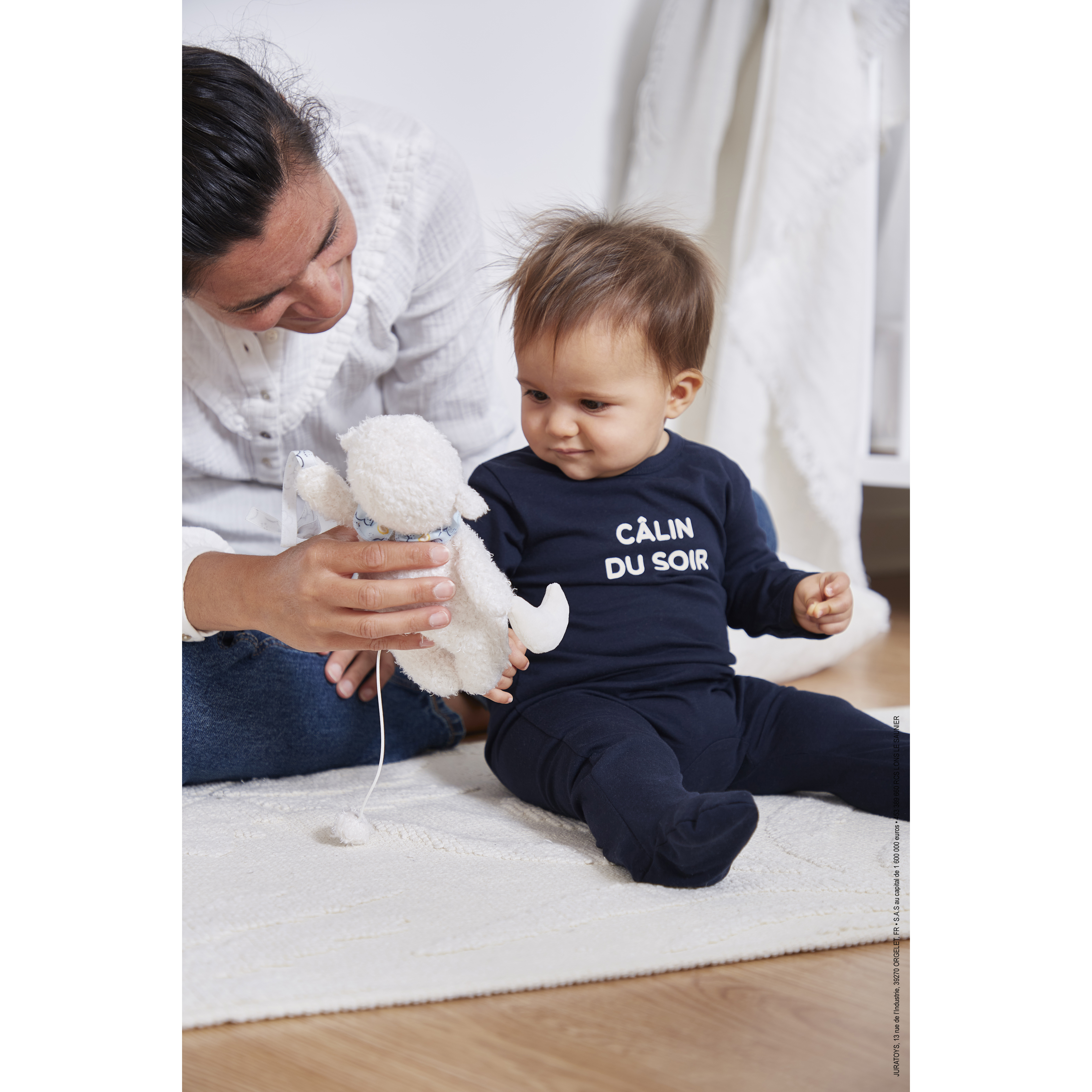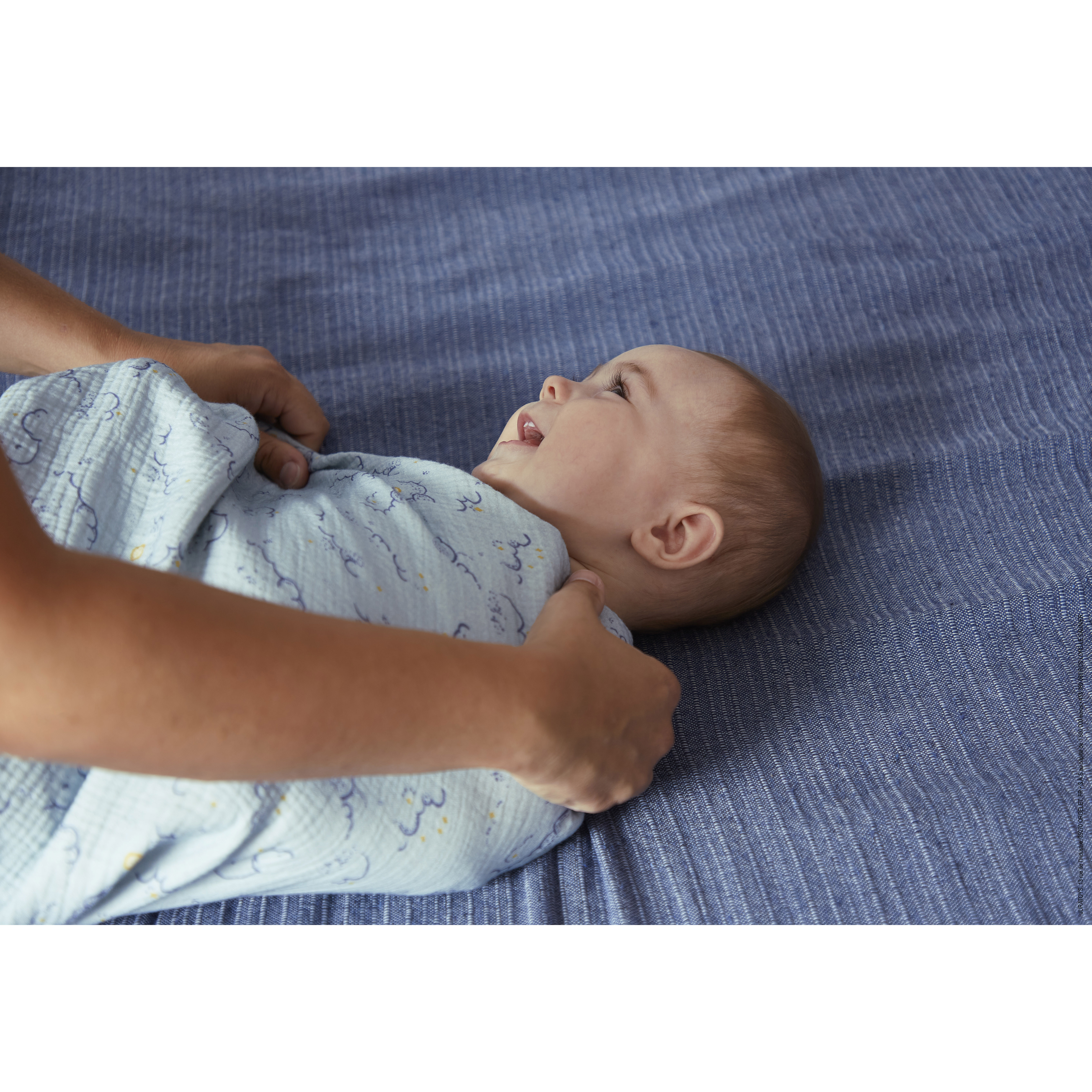 *Swaddling is a technique that consists of wrapping babies in a blanket to limit their movements. Wrapped in a soft, lightweight swaddling blanket, babies will find it easier to fall asleep in a posture that reminds them of their position in utero. They will then be able to soothe themselves and fall asleep in a real protective cocoon that gives them warmth and security.
This technique is useful for helping babies fall asleep, but also to calm them when they are stressed or suffering from colic. Thanks to the light pressure of the fabric on their tummy, they better tolerate these pains and move around less.
Furthermore, all babies are born with primary reflexes. The Moro reflex is one of them: when babies are lying down and fall asleep, their arms can move involuntarily, which sometimes wakes them up suddenly and makes them feel like they are falling. Swaddling baby at night or at naptime counteracts the effects of this reflex by limiting the movement of the baby's arms, for sleep that is uninterrupted by crying.
Ensure the child retains some freedom of movement in their legs and do not make the swaddling blanket too tight around the hips. Make sure they are not dressed too warmly before swaddling, as their body temperature will rise once they are wrapped.
There are several swaddling techniques. Don't hesitate to ask your midwife or paediatrician for advice in order to do this correctly and find the method that will work best with your baby.
**White noise is a randomly generated signal that simultaneously combines all sound frequencies. Its only describable characteristic is a certain uniformity, like light rain, a thunderstorm, the sound of a fan or the hum of a washing machine. It is reputed to promote sleep, learning and productivity, but may also relieve travel sickness! Playing white noise while babies are falling asleep with the help of a cuddly sound toy helps to soothe them and limit other external noise: these are natural, comforting sounds that reassure them and help let them drift off to sleep.