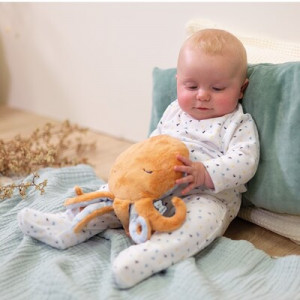 Petit Calme
To prevent and relieve baby's first upsets, Kaloo has designed the "Petit Calme" collection. Comforting hot water bottles, capable of diffusing heat... Lire la suite
Affiner la recherche
Filtrer les résultats
Fermer
... heat or cooling baby to soothe his discomfort, but also teething rings in natural rubber that will keep him busy during the first teething sessions.
The virtues of water and the sea guide the choice of harmonious prints, where comforting waves dance, but also a selection of delicate companions. An octopus plush or a soft starfish plush, a textured teething ring in relaxing colours have been designed to fit baby's little hands.
Kaloo's "Petit Calme" wants to dispel baby's aches and pains, and leave room for relaxation and smiles.