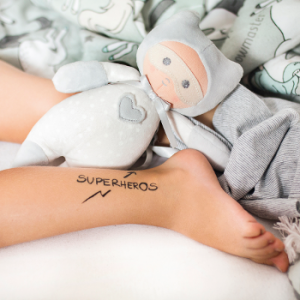 Super Héros
Do a good deed with this teddy designed by the Petit Cœur de Beurre Association and created especially by Kaloo! My First Superhero is a character with superpowers! It will comfort and calm children who need reassurance and tenderness in those difficult moments! Its detachable cape may be imbued with the odour of mummy or daddy to reassure very small children.
1 My First Superheros Teddy = 2 EUR will be paid to the Petit Cœur de Beurre Association which helps children born with a congenital heart defect and their families.
Sorry, there is no product matching for your search.
Try another keyword!
Back to homepage